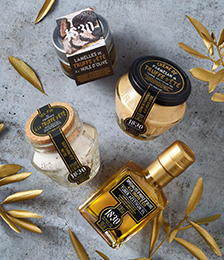 Truffles
Bernard Villermet's story is a lovely one. It could even be the story of Elzéard Bouffier, the character who is the hero of The Man Who Planted Trees, the 1953 short story by the famous Provencal author Jean Giono. It is the story of a hill overlooking the valley of Ginasservis in Haute-Provence.
On this hill, more than 20 years ago, Bernard began to plant truffle oaks. Today, there are more than 500 of them, offering their leaves to the Mistral, a Provencal wind. Every day, Bernard Villermet walks through the wood that he created, with Zoe, his 7-year-old truffle dog who digs for truffles twice year. .

High quality truffle specialities
The ingredients used to make the different truffle specialities in this category have been very carefully selected. Discover the white balsamic vinegar with white truffle, made from a real Modena balsamic vinegar from family know-how, enhanced by the flavour of white truffle. Whether you are a gourmet or a prestigious guest, the inimitable taste of truffles will delight your taste-buds and those of your guests in these quality products which are both authentic and full of flavour.
A wide choice of truffle-flavoured specialities
We offer here a wide range of truffle products: truffle oil, truffle sauce, truffle risotto... Truffle olive oil is perfect for pasta, risotto, eggs or potatoes. Its truffle flavour will give taste to your dishes. Season your salads, omelettes and brouillades with truffle salt. Give your dishes that extra something with slices of summer truffle preserved in olive oil to give them even more flavour. We also have gourmet specialities such as tagliatelle with truffle, truffle-flavoured terrine and also pesto with truffle. And for a prestigious, gourmet gift, choose a box set of assorted truffle products. And what about accompanying your truffle specialities with a drizzle of olive oil for an exquisite flavour that will enchant your taste buds?